No longer will the determined driver sheepishly squint into the sun, trying to track their golf ball as it soars off in an untraceable arc – at least, not at the FlyingTee driving range and entertainment space.
Owners of this 53,000 square-foot Jenks, Oklahoma facility developed the concept for a golf entertainment experience which goes far and above a typical driving range. Guests may tee off against others in their party, watching their drives fly through the air and then land – with any luck – in digitally-enhanced target areas; all seen in high-definition on an eye-level screen. But none of this would be possible without the discerning integration of OK-based Ford Audio-Video and the SunBrite screens they used.
Inside Ford Audio-Video's FlyingTee Installation
FlyingTee's unique needs called for over 60 high-brightness displays which show patrons in detail the arc of their tee-off, where their ball lands, and how each hit compares with opponents'.
Ford A-V senior account manager Michael Burton says the setup required one computer per guest bay – each of which face towards the driving range from one of three of the building's floors. Burton needed reliable screens which could brave Oklahoma's volatile weather that ranges from humid summers to wintry blizzards.
While the climate-controlled bays are covered from above to provide shade to golfers, they are fully exposed to the rest of the elements. There are of course no walls on the side facing the range, so the displays needed to be weather-proof.
They also needed to be club-proof. Burton says he had to choose a manufacturer which understood the premise that their products stand to take an occasional beating from errant golf swings.
"Nothing is impervious to a golf club at full-velocity, so you have to realize some won't be covered under the facility's order warranty," Burton says. "One of the biggest reasons we went with SunBrite TV for this installation was because they have a business model to partner with commercial integrators."
Each bay has its own computer system running the graphics to avoid issues that often surround having one massive server. There's one server in each bay and a kiosk shared by every two bays.
After creating network systems for each bay's screens to run on, Ford Audio-Video's next task was to outfit sports bar and date night lounge spaces with TVs. The one thing each of the three floors has in common is additional SunBrite TV models for entertainment and lounging. Like their informational counterparts in the bays, these models needed to withstand salt corrosion, humidity and insects.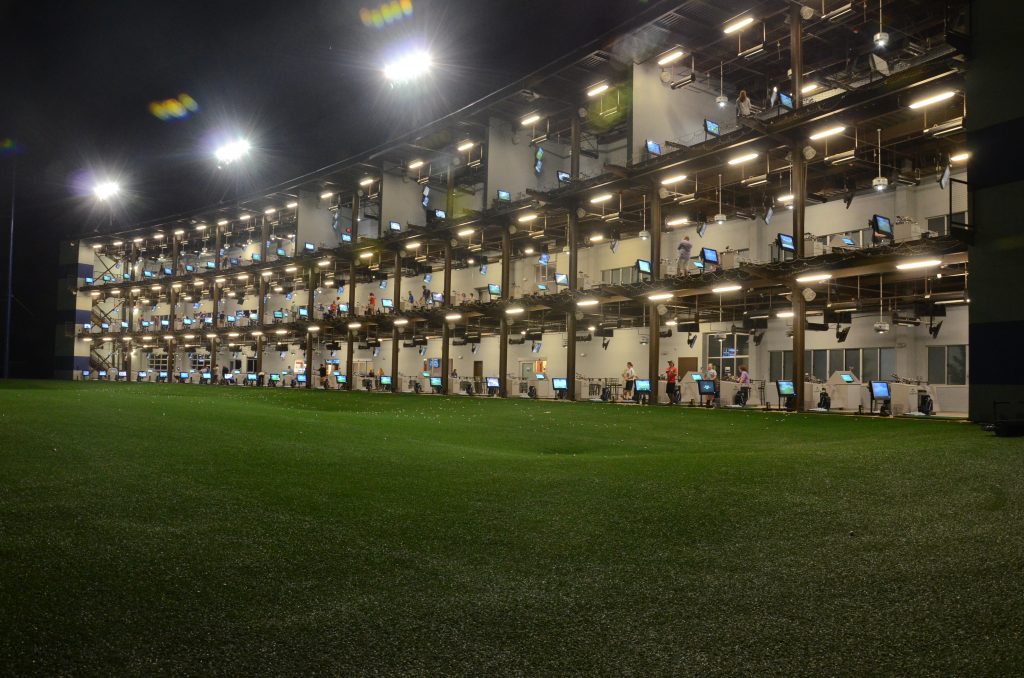 Challenges to the Ford Audio-Video Team
Burton reports the biggest challenge posed to his team during the FlyingTee installation was the control aspect.
"To control a facility with over 200 displays and 30 zones of audio is no easy task," he says. "We wanted to create an interface that was easy to use for managers and any employees."
Patrons may request volume increases or decreases on a whim, so it was critically important to craft a control system which stressed ease-of-use, Burton says. His team installed Display Control over RG6 using Contemporary Research's ICE-HE System for this purpose.
Nurturing the FlyingTee Relationship
In FlyingTee's video above, the integrator is well-complimented. Despite having made his customer happy, Burton describes the project as "a sort-of beta test." The possibility of FlyingTee expanding into future facilities leads Burton to believe some redesigns may be in order.
The Ford A-V team stops by for some tune-ups once in a while, particularly if a screen is damaged. But the facility maintains that the installation remains reliable, and that spells hope for future business in Burton's view.
"They've got a great vision on how to expand their brand in the future, and we plan to be their long-term solution," he says.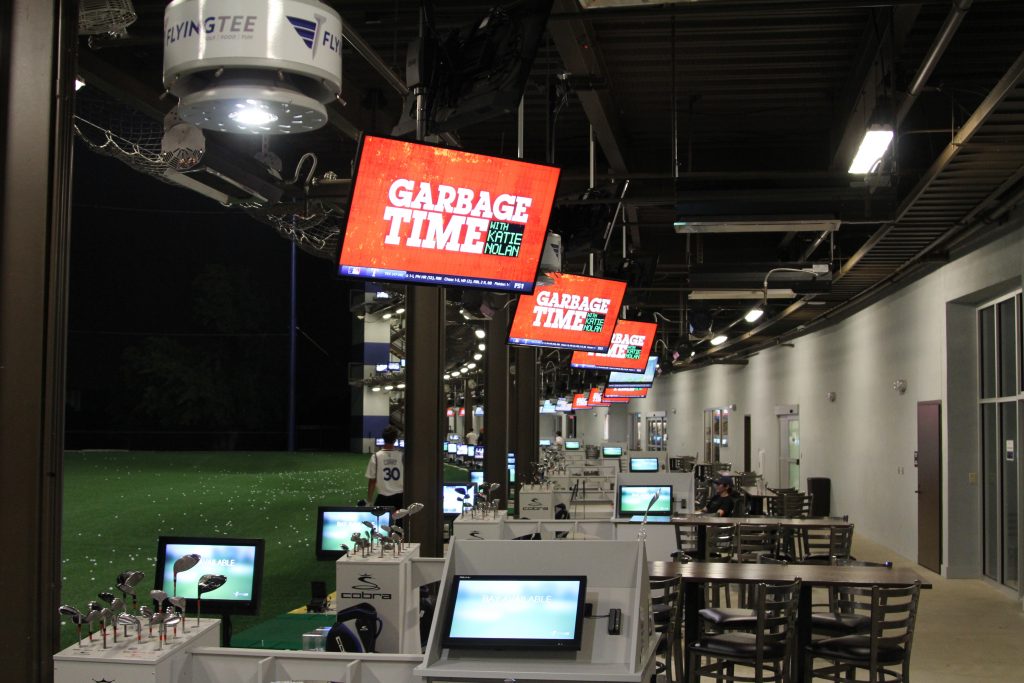 Ford A-V Equipment Highlights
SunBriteTV 32" Pro Series outdoor screens
TruVu Touch Monitors for the interface in each bay
Thor Modulators with 16 in house channels of video selectable on any display
JBL Speakers, Crown Amps, BSS DSP
Crestron Control with iPads
Display Control over RG6 using Contemporary Research's ICE-HE System
Learn more about FlyingTee here.
Original publication here.