Whether inside or outside, traveling or at the workplace, live concert or house of worship — GIANT video displays are part of our everyday life. Now more affordable than ever, video walls are used to deliver advertising, critical information or create an environment that inspires both guests and staff.
Welcome Spaces
Yesterday's lobby is now a welcome center that treats its visitors to an experience. Today, businesses use large displays to inform, inspire and entertain their guests from the moment they enter.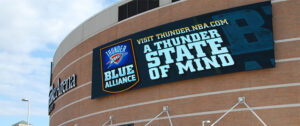 Chesapeake Energy Arena | Oklahoma City, OK
Let's Go Outside
Whether in a plaza or sidewalk, today's large format displays provide the brightness needed to deliver your message, even in full sun. Whether for entertainment or merchandise sale displays, BIG makes the difference in guest impact.

Odessa Christian Faith Center | Odessa, TX
Now On Stage
Large concerts are not complete without large direct view LED screens. New, lower-cost panels make this technology affordable for smaller venues, including schools and churches.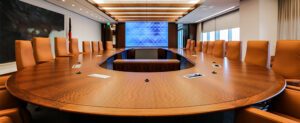 ConocoPhillips | Houston, TX
From Training Rooms To Boardrooms
Leave the windows open! Large projection screens that require a dark room are replaced with large fine-pitched, direct view LED displays. From an executive conference room to training rooms,
spaces used to make high-stakes decisions and convey critical data are more effective with large, bright displays.

Grand Central Terminal | New York City, NY
Of Course, the Concourse
If you are traveling — you require critical information from a distance. Video walls not only deliver detailed messaging for over 100' away, but are used for advertising and art. Combined with a Life Safety system, displays throughout the concourse can provide critical information, directing guests on what to do during an emergency, such as severe